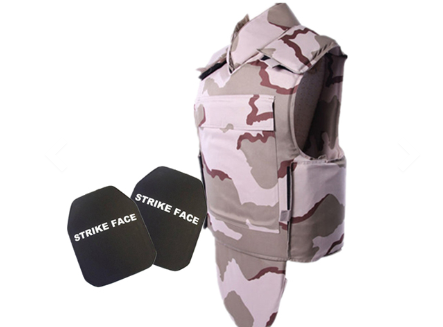 Wearing a body armor is obviously not enough when performing dangerous tasks. If you need to use a bulletproof plate, which level should you choose? What kind of cleaning and maintenance does the bulletproof plate need?
How many levels of bulletproof plates are there?
How many different types of bulletproof vests are there?
Which rating of the bulletproof vest is best for me?
What should I pay attention to when buying a bulletproof vest?
Use and maintenance of bulletproof plate
How many levels of bulletproof plates are there?
In general, bulletproof plate are available in two different types or categories and are tested and approved by NIJ: Types 3 and 4. The level of the 3rd bulletproof plate prevents the rifle. A plate must pass three rounds to pass. The 4th bulletproof plate is rated to prevent armor-piercing projectiles. When this test is performed, a bullet is fired on the board, and if it hits the board, it fails. There are many ways to create two types of armor panels, and the effects vary. That is where it gets complicated. Then, choose the type 3 or type 4 protection and the material of the board will become the officer's choice.
How many different types of bulletproof vests are there?
The body armor acts inside the body armor. The main purpose of the appearance is to try to deflect or weaken the direction of the turn, secondly to look at the aesthetic features to match the uniform of the military/PMC, or to act as a camouflage. Then, the interior composed of various synthetic fibers work together to absorb the impact force, and then spread the impact force over the entire surface area of the bulletproof vest. You can find many types of body armor today. Here is a brief description of the different levels of body armor.
First-level armor. In the case of bulletproof vests, Class I protection is the lowest level available. At this level, a vest is rated as two types of small-caliber bullets, specifically 0.38 and .22 caliber bullets. Because higher caliber rebound is very common, Class I vests are not considered to be NIJ compliant. Class IIA body armor. Level IIA is the next level. At this level, the protection is slightly more flexible, and it also protects the body from 9mm ammunition and .40 Smith and Wesson ammunition. The "A" grade difference means that it has similar performance to the Class II vest, but is weaker.
Secondary body armor. The Class II vest offers the same level of protection as the IIA, but withstands 9mm damage at higher driving speeds (up to 1245 ft / s) and has a large size of 0.357. Class IIIA protection covers all previous levels of protection, as well as 9 mm ammunition at speeds up to 1400 ft / s. The IIIA vest also prevents .44 magnum and .44 caliber bullets. There are suppliers offering IIIA + grade vests that prevent shotguns, 9mm civil bombs and FN 5.7. Although this type of vest is not officially certified by the NIJ, it is an exploratory option to increase the resistance of the gun.
Three-level body armor. Class III body armor is the first level of defensive rifle. These vests are usually made of hard metal sheets instead of soft boards. The vest must be able to withstand six shots in the 7.62x51 NATO round, with a top speed of 2780 feet per second to be considered a Class III.
The fourth level bulletproof vest. The fourth-level body armor is the highest basic level and can prevent armor-piercing projectiles. They are also composed of hard plates, as opposed to plates of grade IIIA and below.
Which rating of the bulletproof vest is best for me?
First, ask yourself: "Do I need to guard against pistols and shotgun threats, rifle threats, or both?" Remember, there is a direct trade-off between protection, comfort and concealment. The higher the level of protection, the heavier and less hidden armor. The best armor is the armor you actually wear. With this in mind, it's best to choose the lightest armor to protect you from the threats you are most likely to encounter.
If you're like most people, you need protection from pistols and shotguns, as well as a multi-threat vest that will be soft-body ARMO [R for a life-saving defense. Today, most people decide to use iiia because it provides a lot of protection while still being very lightweight and hideable. Safe life defense multi-threat vest is also resistant to shock and anti-cut! Free from bullets, bats and swords? We have covered you.
If you need to protect against R ifle threats then you need some heavy equipment. For this type of protection, you will need a sturdy body armor because there is no soft body armor to prevent rifle shooting (except 22lr). Hard body armor grades are NIJ III and IV. Compared to soft armor, this armor is much heavier and less hidden, but the trade-off is a higher level of protection.
If you are faced with various threat levels, the Safe Life Defense Multiple Threat Armor System allows the use of a detachable rifle board that can be adjusted with the level of use of Level IIIA vest protection (IIIA to IV). In this way, all your advantages IV armor without sacrificing wear resistance.
What should I pay attention to when buying a bulletproof vest?
Most body armor companies offer some guarantees and warranties. Be sure to check and understand the warranty attached to your vest before purchasing. For example, Safe Life Protection proudly stands behind all our armor and the person wearing it by providing the right assurance, satisfaction, warranty and event guarantee.
1.Suitable for guarantee. Safe life protection ensures that your body armor is properly mated. If you feel that the vest is not suitable, we will be happy to help you change the vest. The exchange must be in the original state within 30 days of delivery.
2. Satisfaction guarantee. If you are not satisfied with the "Safe Life Protection" body armor, please return it to us in the original state, we will refund the full cost of your product.
3. Event guarantee. If your "Safe Life Defense" body armor can save your life, we promise to replace your body armor for free. Just send us your body armor with an official incident or police report. Safe Life Defense will always stand behind you and our products.
Use and maintenance of bulletproof plate
If you want to clean the ballistic panel, place it on a flat surface first. Wipe the ballistic panel with a damp cloth or sponge to remove dust or dirt. If necessary, you can choose to use a neutral detergent. Do not bleach, iron, tape, machine wash or dry the bulletproof plate.
Remove all track pads, trauma pads and bracket cleaning plates. Then remove all straps and belts from the front and rear brackets. The basic method of cleaning the front and rear racks is manual operation, but you can also use cold water and neutral detergent to thoroughly clean the rack on the machine. To clean belts and belts, wipe them with a damp cloth or sponge, and then gently wipe the belt to remove dirt or stains. If necessary, a neutral detergent can be used. Use a buckle to remove any remaining velcro. When cleaning the media, do not use bleach or fabric softener. Do not dry the support. In addition, do not use deodorants such as Febreeze or Lysol. The underlying material may be damaged or damaged. If the media can be machine washed at normal frequency, these nozzles are not necessary. When finished, let the air dry before using the lowest temperature setting.
If you need the bulletproof plate, please choose the level that suits you according to your situation and carefully maintain and maintain it after purchase. If you are looking for rigorously tested high quality bulletproof plate, SHANDONG HUIERDA TRADING CO., LTD offers you the best products.