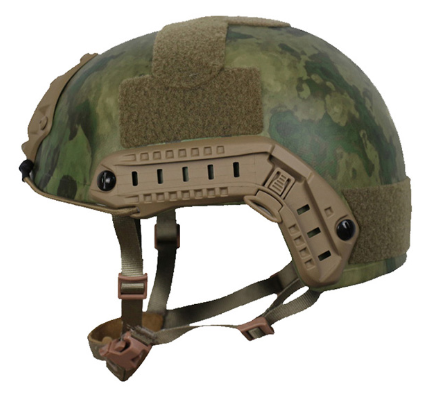 Bulletproof vests protect only part of the body, and many people who work in high-risk environments need to use ballistic helmets to provide more complete protection. So what are the performance standards for bulletproof helmets? What makes a good quality bullet-proof helmet?

Bulletproof helmet class
Tips for choosing a bullet-proof helmet
How effective are bulletproof helmets in combat?
What are the characteristics of modern bulletproof helmets?
Maintenance of bulletproof helmet
Bulletproof helmet class
Bulletproof helmets used by law enforcement, military and defense contractors must undergo extensive testing to ensure performance even under the most challenging conditions. The materials used today are lighter and stronger than in previous years, so to keep up with the latest threats, most manufacturers are currently using a modified version of the NIJ standard, which tests armor to the same specifications as the standard for bulletproof vests and body armor.
Level 2. Capable of resisting 9mm, 357 Magnum caliber pistol loads in most factories, as well as smaller threats, such as 12-gauge 00 lead, 45 Auto. , 22 caliber long rifle high speed and 38 special high speed.
In some cases, secondary defense against ballistic threats is sufficient to meet law enforcement requirements, and its cost is much less than that of a ballistic helmet made of a material that can withstand greater impact.
Level IIIA. Provides greater protection and represents the current benchmark for bulletproof helmets used by military and special operations teams. Capable of withstood most factory pistol loads of 44 Magnum, 9mm and 357 Magnum, as well as smaller threats.
In addition to ballistic impact protection, IIIA class helmets also provide higher protection against projectile impact, which is increasingly common in modern combat environments.
Tips for choosing a bullet-proof helmet
1. Modern bulletproof helmet design can be customized to your head. Don't be afraid to reposition the pads, try different systems, and find the best fit.
2. Like any gear, take care of it and it will take care of you. Helmets are no different. You should ensure that the finish of the paint is maintained on the fiber layer itself. Check your helmet from time to time for any defects and contact the manufacturer (if any).
3. In terms of color choice, we suggest choosing the one that is most needed. You can always spray your bulletproof helmet to adapt to changing conditions or buy a helmet cover.
4. One way to offset the extra weight of the Night Vision goggles installed is to attach the counterweight to the back of the helmet. This can be done with many homemade solutions or off-the-shelf counterweights.
5. When considering a purchase, don't be afraid to ask the manufacturer for complete test documentation.
How effective are bulletproof helmets in combat?
Bulletproof helmets are designed to protect the wearer from various combat-based threats, such as debris, gunshots, shrapnel, and explosions. But shooting is not always out of bounds in combat. Usually, the reason behind the head shot is the sniper. Also, no helmet can really withstand sniper fire. However, in the case of a short-range bomb explosion, a bullet-proof helmet can save you a day by protecting your skull from being crushed and brain damage. In addition, if you are in a vehicle facing an ied, the helmet will keep your head in place when it hits the vehicle in a crash or accident.
What are the characteristics of modern bulletproof helmets?
Light. Over time, new bulletproof components have been introduced, so modern helmets have become lighter. There are still steel helmets, which nearly double in weight and offer poor bulletproof protection and less trauma protection, even though they cost almost half as much. Most modern bulletproof helmets made of aromatic polyamides and polyethylene are significantly lighter, typically weighing less than 2KG and offering excellent trauma protection. bulletproof helmets must be lightweight so that the wearer does not wear a heavy helmet that does not make him behave well. If it overloads you, that's just an obstacle.
Size. Most ballistic helmets are larger and can be adjusted to fit medium and xl heads. It is important to remember that even if the wearer can adjust a smaller helmet on the head, the helmet usually does not have the necessary depth to cover the desired head. It is advisable to order the exact size you need after checking the measurement results. There is no such thing as one size for all sizes.
Comfort. Modern helmets are more comfortable than old ones, not least because they reduce weight. Their shape allows the head to fit better without compromising its protection. Their internal design allows them to be better filled to fit better on the head and reduce its movement on the head. It is recommended that you lightly tap the helmet with your hand to see if it reduces impact. Try pulling the helmet slightly from the side to make sure it is firmly attached to your head and does not move around
Naughty band. There are many designs for straps, most of which make helmets more comfortable, safe and long-lasting. One of the most important aspects of the band system is that it takes some time to adjust them to fit the wearer's head and head. Emergency options. After buying a helmet, make sure the belt fits your head so it doesn't become loose or too tight. When you perform your job, the properly installed helmet stays in place and allows you to focus on the task at hand.
Additional protective helmet and bulletproof vest are the most basic equipment soldiers use in battle. Therefore, when ordering, be sure to order the required helmets. You must be sure to pair these accessories together when ordering these helmets, as some accessories require specific helmets and cannot be added later.
Maintenance of bulletproof helmet
1. You must ensure that it is stored in its bag and it is best to use a helmet cover when doing so. You should store it in a way that will not damage it, and after you have stored it, you need to check the appearance for damage.
2. It is important to keep your ballistic helmet in good condition when not in use
3. It is important to ensure that the inner belt is placed inside the helmet so that it does not weaken or damage the inner belt even if stored for a long time.
4. For example, if heavy objects are placed on the helmet for a long time, the strap will weaken and damage, especially if heavy objects are placed on the helmet for a long time.
5. Do not immerse the helmet in water for cleaning. You need to wipe the outer surface of the helmet and carefully clean the inside of the helmet to prevent sweat from promoting bacterial growth.
6. It is best not to use cold water as it is less effective. You can also use a brush that will not scratch the outside of the helmet. It can be used in bulletproof helmet areas that need the most scrubbing.
To give your body full protection, you should use a bulletproof helmet. There are many models and types of bulletproof helmets available online. If you are looking for a reasonably priced, high quality bullet-proof helmet that has passed rigorous testing, SHANDONG HUIERDA TRADING CO., LTD offers you the best products.