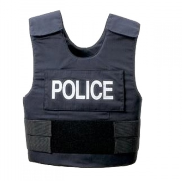 Most police officers around the world are required to wear bulletproof vests while on duty, so how much help can a bulletproof vest provide? Does the price of bullet-proof vest affect its quality?

Basic knowledge about bulletproof vest
How to wear a bulletproof vest?
Who can buy bulletproof vests?
Factors affecting the cost of bulletproof vests
Basic knowledge about bulletproof vest
Bulletproof vests, also known as ballistic body armors, bullet-proof vests or armoured vests, were originally used by the U.S. armed forces. In the past few decades, these bulletproof vests have entered the mainstream of security and law enforcement.
The body armor consists of a textile carrier and a ballistic plug-in. These ballistic plugins prevent bullets from injuring people, thereby preventing bullets from injuring people. The vest itself can be woven from aramid fibers. Kevlar is also heat-resistant and can withstand high heat. However, there are many other materials, such as aramid, denima and spectra.
Bulletproof vests have a certain weight because the structure repels bullets. Initially, these vents were about 25 pounds, but newer versions are as light as 16 pounds. Please note that these counterweights include soft deck and hard deck. Vests that provide only handgun protection weigh only 3 to 6 pounds. Despite the average, there are many different vests to choose from, which of course determines the price of the body armor.
How to wear a bulletproof vest?
Another note about the size of bulletproof vests: bulletproof vests need to fit the entire belly button. The length of the vest is not important because you can adjust it with the shoulder strap. Only care about the diameter of your abdomen and chest. If you're a skinny guy with a big belly, try ordering at the top of your size range so you can fix the vest in the middle. If you are a competitive cyclist with large legs and a slender waist, please order at the bottom of your size range. If you are a good fit, you may be surprised by the small size required because your middle section is small.
The first time to wear bullet-proof vest, should be fully adjusted according to the needs of the strap. Make sure the bottom of the vest is where your belly button is. This way, you can sit comfortably and stand up all day while still protecting your vital parts. After adjusting the vest, just untie one side strap to wear the vest up and down.
How do you clean a bulletproof vest? First remove the bulletproof plate and then clean the outer part (called bracket). The carrier is machine washable. You can use detergent and everything. After completion, insert bulletproof plate into bracket again, can begin to use.
Who can buy bulletproof vests?
Bulletproof vests are mainly sold to people who live, play and work in potentially violent environments. These people include: police, security guards, store owners and workers, surveyors, park rangers and volunteers, bank employees, Courier, war photographer, urban explorers, paramedics, distrust of guns within the scope of other customers, repurchase, the process server, bail bodyguards, a bounty hunter, bodyguard, ATM repairman, armored vehicle driver, jeweler, cash transport personnel, etc.
Who can buy a bulletproof vest? As a U.S. resident, you are entitled to purchase and possess a bulletproof vest. The only person who can't have a bullet-proof vest is a person convicted of a violent felony. If you are convicted of a violent felony, you will forfeit your right to body armor. No background checks, waiting periods or federal registrations are required. You can order a vest from this site and ship it to your home or office. You do not need to register with any authority and we do not share your information with anyone.
If you are convicted of a violent felony, you cannot have a bulletproof vest. If you are convicted of a felony and your job requires a vest, contact your city's police chief and apply for a written waiver.
Factors affecting the cost of bulletproof vests
You can buy body armor cheaply, but is it comfortable? Probably not. The more money you spend, the more comfortable you'll feel. Thinner, more flexible ballistic materials tend to be more expensive. Comfort with a bullet-proof vestt is important, especially if you're wearing it for a long time. If the vest is used as a security guard, you must wear it for at least 7 hours a day, and long periods of discomfort are the worst for you. You can even decide not to wear a vest at all. Vests can be heavy, but you need to be able to move easily in them. This is why the flexibility of the vest is important. Not all body armor is flexible, and not all body armor needs to be worn for a long time.
Another comfort factor to look for is whether it fits your body properly. Ballistic armor should not be too tight or loose. The price of ballistic armor fluctuates with size, so don't save money by choosing the smaller armor. If it's too tight, it will tie you down, and it may not be as effective as it might be, leading to injury. If it's too loose, it won't provide much protection. Size is not something you should compromise when considering the cost of a bulletproof vest. You can compromise on comfort, but size affects comfort, and that's not negotiable.
Just as the price of body armor rises and falls with the size of a vest, so does weight. Bulletproof vests have become lighter over the years, but you need to choose a protective vest with a panel. You don't have to buy the highest protection vest unless you need to. The more protection a vest provides, the higher the price of a bulletproof vest. Of course, you don't want to provide minimal protection for your use, because the price of a cheap bulletproof vest can end up killing you.
Another issue to consider is fatigue due to the weight of the body armor. The heavier it is, the more you must carry. Also, the amount of time it takes to carry it will determine when you get tired from carrying the weight. If the bulletproof vest is used for daily protection, please choose a kind of protective clothing that can meet your needs, and the weight is light, can be used for a long time according to the need. The price may be higher if you opt for a light but sturdy bulletproof vest, but it's worth it.
Mobility of bulletproof vests. In action, action is everything. You need a body armor, which means it has to be flexible. Flexibility allows you to move around without constraints. If you've ever been in the line of fire, you know you don't have time to dispose of a bullet-proof vest so that your arms don't rise high enough or crouch on the ground. The mobility of a bulletproof vest has a lot to do with the way it is made. Like clothing manufacturers, each brand has a different type of design. You will need to find a vest that fits your body and, typically, as long as you need to buy a bulletproof vest, you can choose the brand.
Another factor that could affect the cost of bulletproof vests is how easy it is to hide them under a uniform. Bulletproof plates must be thin enough to fit easily under any type of clothing. Often, people who buy bulletproof jackets already have their uniforms, so they are not interested in buying new ones that fit only in bulletproof vests. So they had to find a bulletproof vest thin enough to fit the existing uniform.
How thin or thick a vest is does affect the price of body armor. Manufacturers know that some people want vests to be as discreet as possible, so they spend time and money designing and making them. The cost eventually falls to the person who buys the bulletproof vest.
The best way to get the best price for a bulletproof vest is to buy something thin enough to hide under the uniform, but not too thin. You may not need the thinnest one, which will cost you more. Just get one that fits. This may mean taking measurements and paying attention to the size of the body armor when buying.
As with anything, quality matters. Buying bulletproof vests is an investment. That's why the price of body armor is so important to you. While you may want to buy bulletproof vests at the lowest price, it's not in your best interest, because if you're buying higher-quality products, you may end up having to buy a new way first.
The quality of the body armor means durability. Once the durability of a bulletproof vest is compromised, it may be ineffective. Consider the quality of the body armor you buy. It does matter, and it plays a huge role in cost.
Bulletproof vests have saved countless lives, but they are not universal, and it is crucial to choose a quality bulletproof vest. SHANDONG HUIERDA TRADING CO., LTD can provide you with the perfect products if you need to order the bulletproof vest with excellent quality after strict testing.