How many types of bulletproof helmets are there?
Views:3 Author:Site Editor Publish Time: 2020-02-14 Origin:Site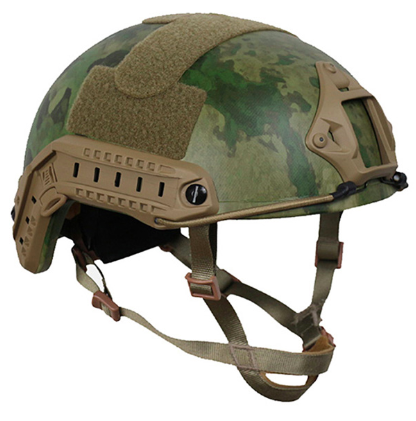 When faced with the threat of bullets, your head is arguably the most vulnerable part of your body, because a bullet in the head is often fatal, which is why a bulletproof helmet is a must in combat. Ballistic helmets also protect against shrapnel and shrapnel. What are the types of bulletproof helmets? What's the difference?

Protection level of bulletproof helmet
What types of helmet shapes are there?
How do you choose a bulletproof helmet?
Protection level of bulletproof helmet
Ballistic helmets are rated from class II to class IV. Each helmet is tested before it is marked with a specific level of protection. The helmet was tested in the same rounds as the bulletproof vest and other types of body armor. For example, a class II bulletproof helmet was tested with a 7.62 mm FMJ bullet with a speed of 2780 FPS. The NIJ's level of protection applies to bulletproof helmets just as they apply to other body armor. Therefore, before addressing any of these threats, you need to understand the level of threat you are facing. The best bulletproof helmet is obviously the one that provides the most protection. Class IV bulletproof vest protects against penetrators.
What types of helmet shapes are there?
PASGT helmet. The personnel armor system for the army (PASGT) was the helmet that replaced the M1 helmet for the U.S. army in the 1980s.
Small, medium, large and oversized standard PASGT shapes, known as Kevlar helmets. The bulletproof helmet was created to improve protection for iterations that were previously made mostly of steel. Over the next few decades, it became the standard helmet for the military, but eventually the need for improved features such as better fit led the military to design an updated version of the bulletproof helmet.
MICH/ACH helmet. To overcome the weight and other problems with the PASGT helmet, the U.S. military developed the modular integrated communications helmet (MICH). Later, it was able to produce MICH's Advanced Combat Helmet
(ACH). The two look very similar, so you can check their specifications to find some differences between them.
Compared to MICH, ACH's helmet has a bit more area - protection advantages, but less view. In ballistic penetration, ACH outscored MICH by several percentage points.
ECH helmet. ACH and previous bulletproof helmets used aramide-fiber, while the enhanced combat helmet (ECH) had ultra-high molecular polyethylene or thermoplastics. The ECH looks and weighs almost as much as ACH, but it is thicker and has 35 percent greater ballistic protection than ACH.
Fast helmet. Future assault shell technology (FAST) helmets can be allocated with larger ears. This is beneficial for those who want to make more use of communications equipment, especially tactical and communications protection systems (TCAPS). FAST helmets are also much lighter than any other recent bulletproof helmet
How do you choose a bulletproof helmet?
If you are in the military, there are many options, depending on your assigned functions. However, you can evaluate possible conditions when using a bulletproof helmet, including distance from a dangerous or conflict area, time of day, required accessories, combat strategy, and preferred weight. Also, the Settings that will use it are a related factor. Another related factor is whether bulletproof helmets will be used outside combat operations. For example, if helmets are used for disaster relief operations, they may not require much bulletproof protection. You also need to determine whether you are more comfortable with partial coverage or full coverage (covering your ears). In addition to the specifications of the bulletproof helmet, the materials used (such as Kevlar, UHMWPE and others) give you an idea of the quality of the helmet. You may also need to add attachments to achieve more functionality or to be more appropriate. The balance between protection and mobility may be the bottom line when choosing a helmet.
There are many types of bulletproof helmet, not only different grades, but also different materials. Please choose a helmet suitable for yourself according to your own situation, and you can also refer to the advice of experts. If you are looking for a reasonably priced, high quality bullet-proof helmet that has passed rigorous testing, SHANDONG HUIERDA TRADING CO., LTD offers you the best products.